List of current research staff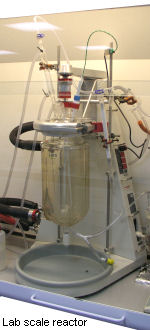 Prof Mike Turner: New conjugated organic materials of electronic and electro-optical devices, sol-gel chemistry, polymer synthesis, auxetic materials and device fabrication at the nanoscale. (group leader)
Dr Marion Wrackmeyer: Synthesis of functional polymers for the application in OFET sensor devices.
Dr Sheida Faraji
Dr Suresh Garlapati: Printed electronics, oxide and organic semiconductors, gas and volatile organic compound sensors.
Dr Aiman Rahmanudin
Dr Venukrishnan Komanduri: Synthesis of variety of conjugated polymers for gas sensing applications.
Atsuo Utagawa
List of current research students
Jaruphat Wongpanich: functionalised conjugated polymer nanoparticles
Vanessa Tischler
Sebastian Broll: Synthesis of conjugated polymer nanoparticles via emulsion polymerisations and their application in organic field effect transistors (OFETs).
Usman Khan
Yurachat Janpatompong
Raymundo Marcial Hernandez: Synthesis of novel monomers and the development of new synthetic routes to obtain conjugated polymers.
Glenn Sunley Saez
Amadou Doumbia: Development of "Point-of-Care bloods test OFET biosensors for the diagnosis of several diseases such as Breast Cancer, Diabetes, and Stroke Diseases.
List of current MChem students
Nicholas Bull
Michael Chan
Siti Binti Ahmad Zamhuri
Past research staff and students
Wentao Zou
James Crossland
Jair Esquivel Guzman: Emulsion polymerised nanoparticles in the fabrication of photovoltaic devices.
Daniel Crossley: Current work focuses on direct C-H activated Borylation for the synthesis of fused and ladder type conjugated oligomers and polymers.
Josue Ayuso Carrillo: New synthetic routes to conjugated polymers, such as polythiophenes.
Shakharan Al-Zangana: Effect of functional nano- and micron sized particles and clusters on the properties of liquid crystals.
Dharamraj Kumar: Poly(p-phenylenevinylene) Containing Block Co-polymers.
Archit Mehra
Osian Ryder
Dr Barada Dash: Conjugated materials for OFET, OLED and OPV applications.
Dr Daniel Tate: development of printed OFET sensors as part of the EPSRCs Centre for Innovative Manufacturing in Large Area Electronics (CIMLAE).
Dr Andrew Foster: Synthesis, characterization and theory of conjugated polymer nanoparticles in emulsion systems, formation of anisotropic nanoparticles, use of novel monomers in Suzuki-Miyaura cross-coupling polymerizations and functionalized polymeric systems for antimicrobial applications.
Dr Benjamin Lidster: Synthesis and characterisation of novel cyclic conjugated polymers, in particular cyclic poly(phenylene vinylene)s
Dr Ehsan Danesh: Organic electronics, inkjet printing of functional materials, (bio)chemical sensors, conducting polymers and nanocomposites.
Dr Jonathan Behrendt: Knowledge Centre for Materials Chemistry (KCMC)
Dr Dolores Caras-Quintero: New organic materials for electronics
Abdel Chakiri novel materials for use in H2O2 production process.
Dr Ming-Tsz Chen: Graphene.
Nicolas Cocherel: The synthesis of ladder and semi-ladder polymers based on indolocarbazole.
Dr Debasmita Das: Biosensors based on Organic field effect transistors.
Mike Fearn: Preparation and Properties of p-n Molecular Junctions.
Dr Pompi Hazarika: RAPID: Robust, affordable photonic crystal sensors for point-of-care disease diagnostics.
Joshua Healy: platinum-free oxygen reduction catalysts for use in a hydrogen fuel cell.
Dr Masaki Horie: Hybrid solar cells using conjugated polymers and inorganic quantum dots.
Ian Ingram: synthesis of high performance polymer semiconductors and doping agents tailored towards the fabrication of in-plane-gate field-effect transistors (IPG-FETs).
S. K. Abbas Kazmi: The use of alkylalkoxysilanes and alkoxysilanes as binders in the paint industry.
Dr Jeff Kettle: organic and inorganic semiconductor device fabrication, characterisation and modelling.
Kexin Lu: Liquid crystalline organic semiconductors for OFETs.
Jonathan Maunoury: Processing and testing new organic semiconductors in electronic devices such as organic field effect transistors (OFETs).
Dr Mark C. McCairn: High-throughput parallel synthesis and screening.
Dr John J. Morrison: Polyarylamines (PAAs) for use in functional OFETs.
Adam Parry: Fabrication and optimization of novel transistors based on the self assembly of organic semiconducting monolayers.
I-Wen Shen: Synthesis of semiconducting polyarylamines by microwave assisted chemistry.
Sebastian Sprick: New catalytic Systems for the Synthesis of Novel Triarylamine Polymers Containing Fused Heterocyclic Rings.
Andy Spring: synthesis of poly(phenylenevinylenes) (PPVs) via microwave assisted ring opening metathesis polymerisation.
Ian Teasdale
Barbara Urasinska-Wocjik: Fabrication and characterisation a range of organic semiconductor devices (mainly OPVs and OFETs).
Helen Wright: Fused ring conjugated polymers and small molecules for organic-semiconductors.
Chin Yang Yu: Synthesis, characterization and application of linear and cyclic conjugated polymers.
Chin Yang Yu ("Rex"): The development of donor and acceptor block copolymers for organic solar
Andrew Eberhardt: Metal-free couplings for sustainable materials synthesis. cell applications.
Thomas Smith: Synthesis and analysis of new non-platinum catalysts for use in the state-of-the-art 'FlowCath' Fuel Cells.
Sheida Faraji: Processing high-k nanocomposite dielectrics for flexible, portable electronics; in particular aqueous sensors and low power electronics.
Michael Tomsett: Use of helical polymers in the long range transmission of stereochemical information.
Ying-Yeh Chu: Conjugated polymer nanoparticle for used in solar cells.