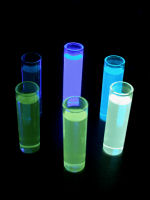 Professor Turner is Director of the Organic Materials Innovation Centre (see www.omic.org.uk) and leads the UK Organic Materials for Electronics Consortium (see www.omec.org.uk). He has extensive experience in synthesising and characterising organic semiconductors with particular expertise in conjugated liquid crystals, conjugated oligomers or polymers and fused ring systems. Additional areas of interest include sol-gel chemistry and high performance polymers. The research conducted involves extensive collaboration with Physical and Theoretical Chemists, Materials Scientists, Physicists and Engineers. Financial support comes from the UK government (EPSRC and DTI), the EU and industry. The group is located in OMIC's state of the art laboratories and has access to all of the infrastructure and equipment necessary to conduct leading edge research.
Organic semiconductors
Soluble semiconducting polymers are attractive synthetic targets as they can be deposited from solution using low-cost processing routes such as ink-jet or screen printing to fabricate organic electronic devices such as LEDs, solar cells, lasers and transistors. Integration of these devices into displays, receivers, amplifiers, lighting and electronic circuits may deliver ubiquitious intelligent systems that enable true ambient intelligence to impact on our everyday lives. A variety of systems are under investigation including phenylenevinylene, thiophene, arylamine and fused ring heterocyclic polymers. Well-defined polymers with good control of polymer microstructure and molecular weight are also of interest, particularly block copolymers of different conjugated segments.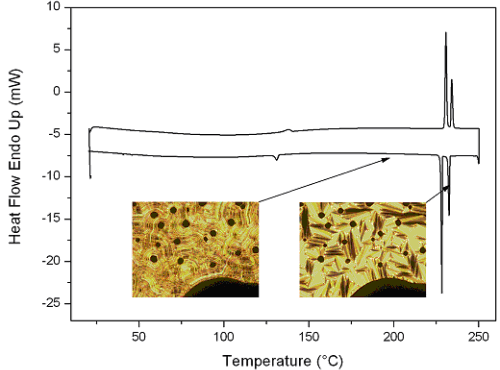 Liquid crystalline organic semiconductors enable facile fabrication of large defect-free domains by exploiting the self assembly possible in the mesophase. Examples include the columnar phases formed by discotic liquid crystals (e.g. triphenylenes, coronenes) and the nematic and smectic phases formed by calamitic liquid crystals (e.g. quarterthiophenes, bisphenylbithiophenes). By utilizing liquid crystalline materials that carry reactive end-groups i.e. the reactive mesogens (RM), it is possible to maintain the molecular alignment in LC monodomains independent of temperature. These ordered films may exhibit highly anisotropic transport properties, with high charge-carrier mobility observed in the direction of the largest orbital overlap and low mobility where the orbital overlap is less effective.
Accelerated Discovery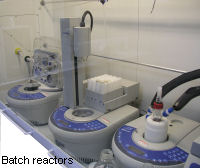 Traditionally the discovery of new organic materials for electronics has been limited by bottlenecks in the synthesis, purification and characterisation plus the time taken to fabricate and test devices such as OFETs and OLEDs. There is therefore tremendous potential for high throughput methodology in conjugated materials discovery, in the evaluation of structure-property relationships for improved device performance and in the development of new processing methodology. Research in Manchester is looking at the preparation of libraries of organic semiconductors to examine structure-property relationships that govern device performance. These libraries are prepared by parallel synthesis in solution or on the solid phase using automation when appropriate. Targets include optimizing the liquid crystal behaviour of organic semiconductors, organic semiconductors for sensor arrays and block copolymers for organic photovoltaics.
Nanoscale device fabrication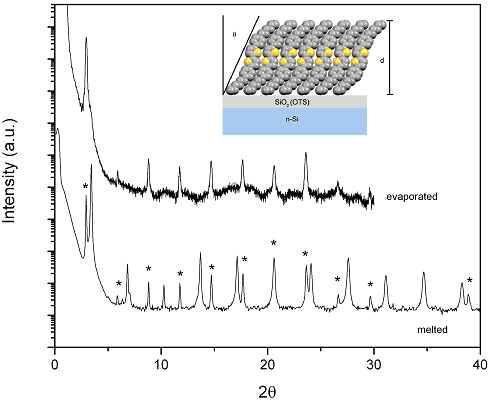 The ability to manipulate molecular organisation on the nanoscale is critical to the development of molecular electronic devices. Current semiconductor technology is incredibly costly (several billion dollars per plant) and is approaching fundamental obstacles that limit both fabrication techniques and device performance. It is possible that the future of low cost electronic device fabrication lies in molecular electronic materials.